BDC Integration
Your next sale is sitting in your CRM. You already own the data on thousands of local prospects, and through data mining you will increase sales, and feed your BDC with targeted prospects.
41% of leads purchased their vehicles from your competition. 33% of leads buy after three months.
Effective follow-up converts these leads from prospects to your best customers. Lead Igniter is your ticket to re-engaging old prospects with personalized content delivered on a custom monthly schedule. Generate new business with online coupons and special offers available only to your internet family.
Example Clicker Report
Even if a customer has never purchased a vehicle from your dealership in the past, satisfied customers eventually buy cars. Convert finance turn downs into service customers. Convert service customers into new car buyers. Keep the local prospects engaged with your dealership.Lead Igniter does digital marketing the right way.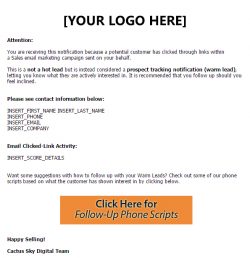 Campaign Metrics
Our emails include comprehensive campaign tracking for your BDC or sales team to follow-up with using behavioral targeting.
Call Tracking
Advanced Call Tracking Analytics provides you with Recorded Call Tracking Records allowing you to follow-up with Engaged Phone Prospects.
Clicker Reports
Detailed reports showing the person's postal, phone, and link clicked info
Clicker Reports
Our reporting engine is the most robust in the industry. See what it can do for you.